JB-ASEAN International Trade Expo & Business Forum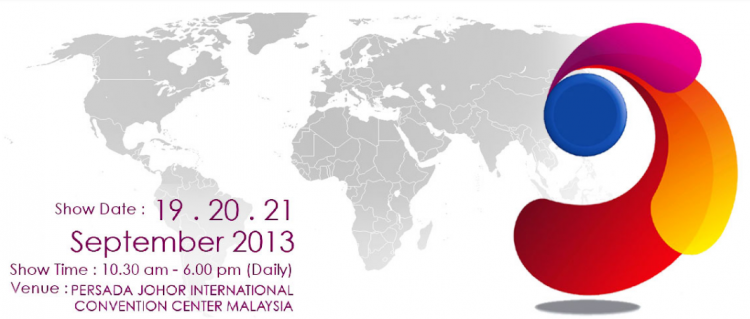 Johor Bahru Chinese Chamber of Commerce & Industry (JBCCCI) is pleased to invite your prestige organization to participate in JB-ASEAN TRADE EXPO AND BUSINESS FORUM 2013, held in Johor Bahru, Malaysia.

In tandem with Asean Free Trade Area ( AFTA ) , by the year 2013, JBCCCI is embarked on a mission to host JB-ASEAN TRADE EXPO 2013 in Malaysia is another venue for world class of Asean (10)+(3) global trade exchange platform, after China Nanlin +(10) Asean Trade Expo..

The scope of Trade and Business Forum profile include of:

Manufacturing.( Machinery /Packaging/Hardware/ Equipment)
Industrial & Engineering. (Ship repair & Marine, Building, Energy & Environment Technology, Oil & Gas, Automotive, Agriculture.
Trade Export. (Furniture, Gift & Handicraft, Food & Beverage, Electric, Auto & Motor Cycle, Building Material, etc…..
Health & Wellness products, Medical Tourism.
Land & Property
Finance & Education
B 2 B Section. Business conference
Johor Iskandar Tour Visit
JB-Asean Trade Export 2013 supported by:
Johor state of Malaysia, Johor Tourism, Johor Iskandar Development Region, MATRADE, and Overseas and Local Chinese Chamber of Commerce & Industry,
Foreign Trade consulate from: Singapore, Indonesia, Thailand, Vietnam, Brunei, Cambodia, Burma, Laos China, Taiwan, India plus several Trade NGO from Malaysia and eceterra.
Price - Standard Booth / 3m X 3m
Members
RM$4500
Non-members
RM$5800
For more information or interested parties, please contact our association at 07-333 6201 or General Secretary (Mr Lee Soon Meng) at 019-777 4699.
Official webpage for this event
http://www.jbaseanexpo.com
Brochure
and
Registration Forms
are available for download in the Download page.
Main Organizer
Johor Bahru Chinese Chamber of Commerce and Industry
Sub-Organizer
Endorsed By
Supported By