OneBuild Malaysia International Building, Construction & Infrastructure Technology Exhibition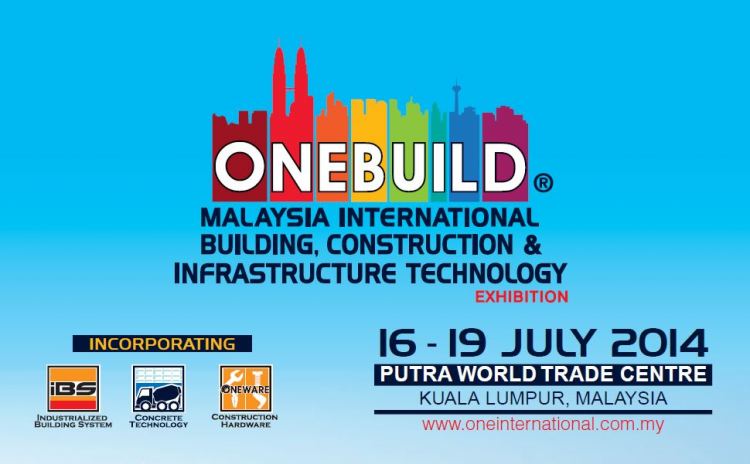 WELCOME TO ONEBUILD 2014
MALAYSIA'S MOST ANTICIPATED INDUSTRY SHOW
OneBuild® - Malaysia International Building, Construction and Infrastructure Technology Exhibition is an international trade fair that is catered to the regional hardware, building, construction and infrastructure industry.
The trade event was founded in response to growing interest in the rapid development of construction industry and it has become the most significant platform for the local and international players to showcase a wide array of products and services ranging from architectural and construction hardware, building materials and systems to construction equipment and machinery, as well as infrastructure technology for building and construction operations. It also provides unrivalled opportunities for participants to have face-to-face interaction while exploring more business prospects and market updates.
Following the success of ONEBUILD 2012 & 2013, the dedicated team of ONEBUILD is working the best for the coming ONEBUILD 2014. The numbers of booth have significantly increased from merely 175 to 388. Furthermore, last year event had successfully gathered more than 200 exhibiting companies from Singapore, Thailand, Taiwan, Korea, China, Germany, Italy and Turkey under one roof to present a board diversity of quality hardware products, building and construction equipment, machinery as well as technology.
Being an industry's well-recognized trade event, ONEBUILD has been receiving the honorable endorsement from authoritative government agencies, namely Construction Industry Development Board Malaysia (CIDB), Public Works Department Malaysia (JKR),Malaysia External Trade Development Corporation (MATRADE) and had gained the unwavering support from more than 30 local and foreign trade associations.
For more information or interested parties, please contact our association at 07-333 6201

Official website: http://www.oneinternational.com.my