Third Asia Pacific Hardware Economic Forum, OneBuild OneWare Hardware, MHMBA 20th Anniversary Dinner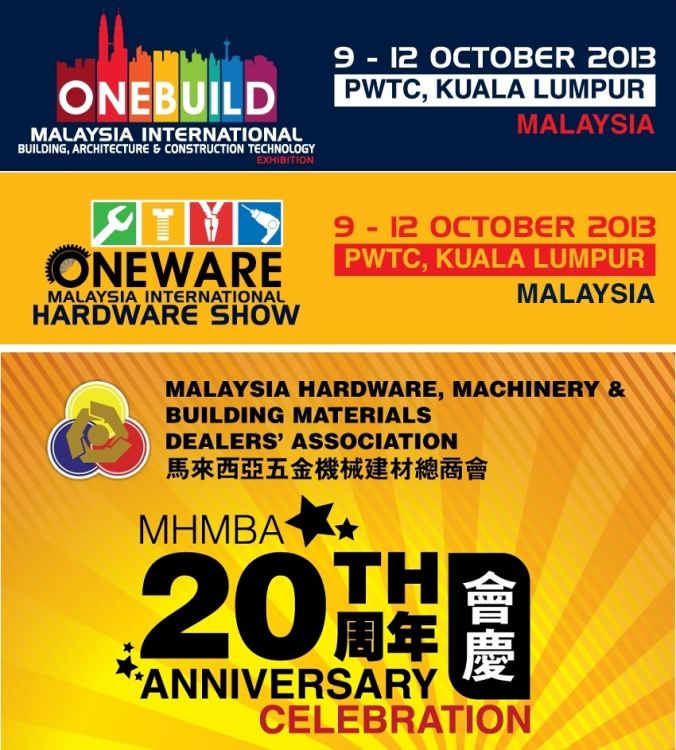 Third Asia Pacific Hardware Economic Forum
OneBuild OneWare Hardware Exhibition
MHMBA 20th Anniversary Dinner

2 Days 1 Night Event
Malaysia Hardware, Machinery and Building Materials Dealers' Association (MHMBA) will be hosting the Third Asia Pacific Hardware Economic Forum and it will be the biggest event held so far as there will be seven countries participating this year.

OneBuild OneWare Hardware Exhibition will also be on that day so participants would be able to view the exhibition as well as attending the Hardware Economic Forum.

In conjunction with that, MHMBA will be holding its 20th Anniversary Grand Dinner on that night at Sunway Resort Hotel & Spa.
Putra World Trade Centre, Kuala Lumpur

10 October 2013

10:00am

OneBuild OneWare Hardware Exhibition

11:00am

Third Asia Pacific Hardware Economic Forum
(Seri Pacific Hotel Kuala Lumpur, next to PWTC)

2:30pm

Opening Ceremony of OneBuild OneWare Hardware Exhibition

Sunway Resort Hotel & Spa

6:30pm

MHMBA 20th Anniversary Dinner
Estimated cost per person is at RM600 which includes bus transporation, Sunway accomodation, MHMBA dinner and so forth.

Closing Date: 10th September 2013




For more information or interested parties, please contact our association at 07-333 6201 or

Chairman, Mr Lim Chiang Ming @ 019-777 2589
Vice Chairman, Mr John Ong @ 012-710 0567
General Secretary, Mr Lee Soon Meng @ 019-777 4699
Treasurer, Mr Tan Kian Lee @ 012-777 7468
Cultural & Educational, Mr San Buan Lac @ 012-720 7388
Welfare, Mr Teh Hock Seng @ 012-788 9967

Official websites: http://www.oneinternational.com.my/home.html
http://www.mhmba.org.my/